Anne-Marie Brunet, CKBD, CAPS
They say that good things come in small packages, well this small kitchen renovation delivered big on functionality, storage, and 'pretty'!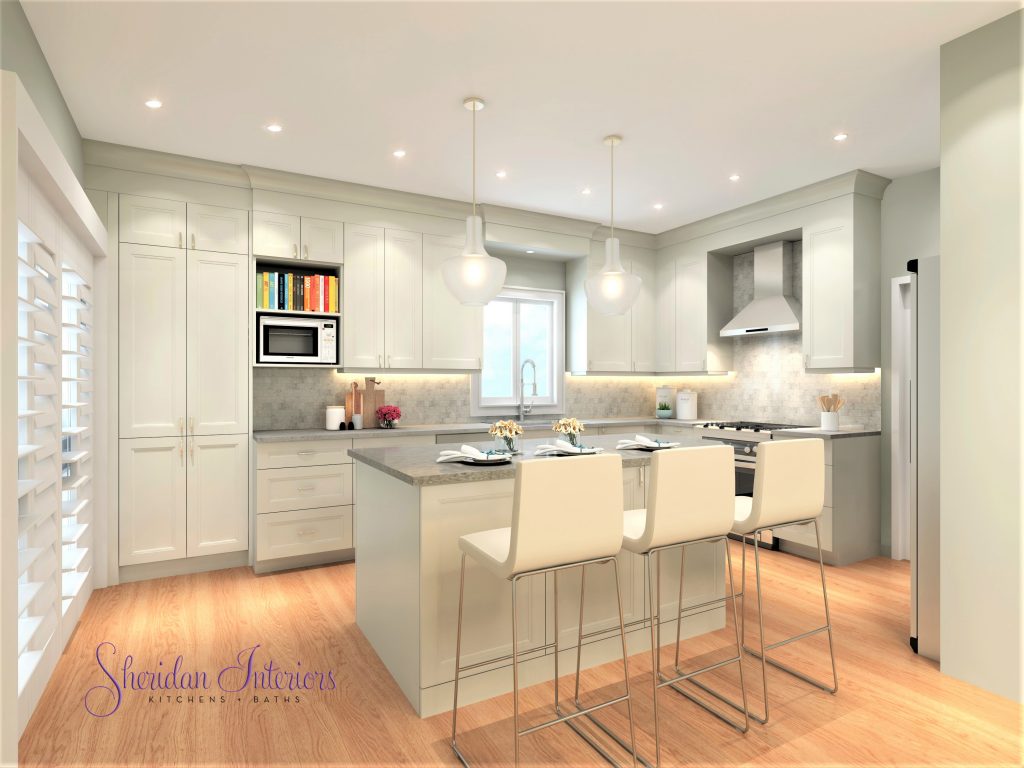 A young Ottawa couple reached out to me this year to help them re-design and update their small kitchen, a less than ideal builder grade kitchen. Over the years they'd managed to make some small upgrades such as replacing the sink and faucet and buying a newer, larger refrigerator. However, none of these 'upgrades' helped them deal with the daily challenges of working in a kitchen that, well, just didn't work for them.
TIP: Doing these types of upgrades without addressing the real issues will rarely provide the long-term satisfaction you're looking for. That said everyone needs a little 'win' sometimes, even if it is short-lived.
Most of us don't have the luxury of having one of those big, bright, beautiful kitchens, we so often fall in love with in the design magazines, and for some of us even an addition to the house to add extra space is just not in the cards either, BUT that doesn't mean that your small kitchen can't live large.
With the right design tweaks and a bit of 'blending and mixing' the right materials, it's absolutely possible to have a beautiful AND functional small kitchen.
Just look at how I transformed this tired kitchen. I think you'll agree that the 'AFTER' is much more functional than the 'BEFORE'…not to mention that 'PRETTY' was invited and stayed!
So let's dive into the BEFORE and AFTER story;
Here's what I had to work with and some of the issues the clients were dealing with. You might be familiar with some of these if you're dealing with a small kitchen too;
NOT having enough prep space/counter for two cooks..they kept getting in each other's way while trying to prepare meals…
Only 1 bank of drawers (standard offering in most new homes)…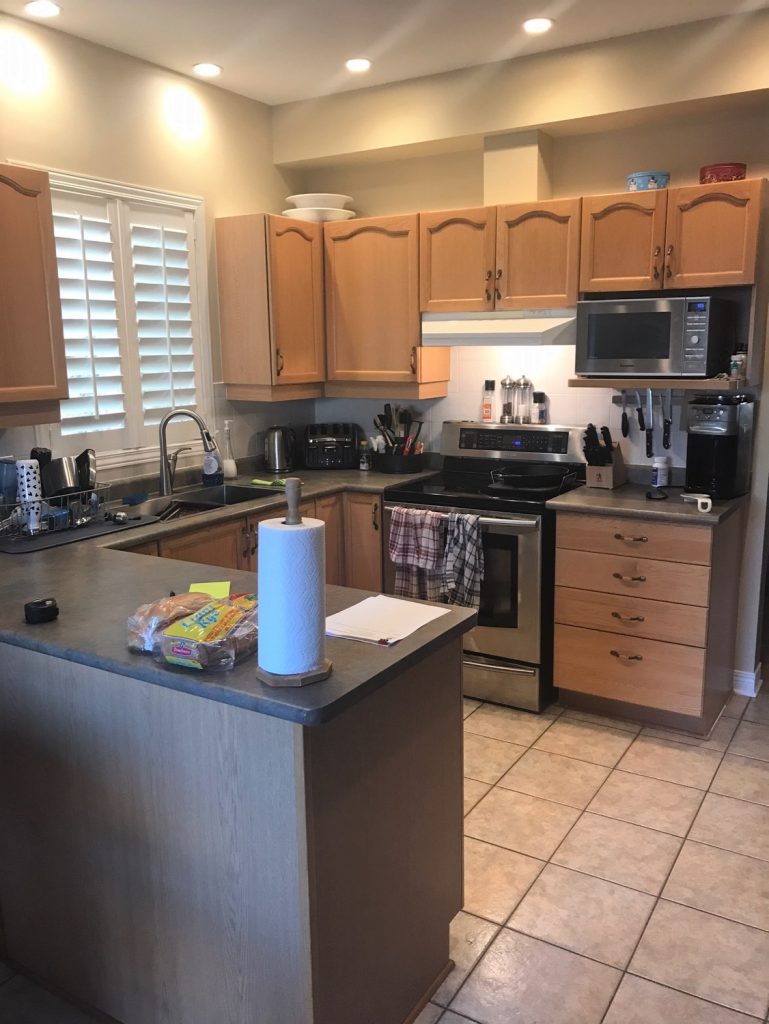 TIP: Cabinets with 1 large door should be used sparingly throughout a kitchen. I use them only to store tall items or large appliances. Use drawer cabinets as much as possible.
3. NOT enough storage – they purchase a lot of food in bulk and we're running out of space to store items.
4. Cabinets that are too deep to access the back of each shelf – so you forget what's in there and buy more of the same…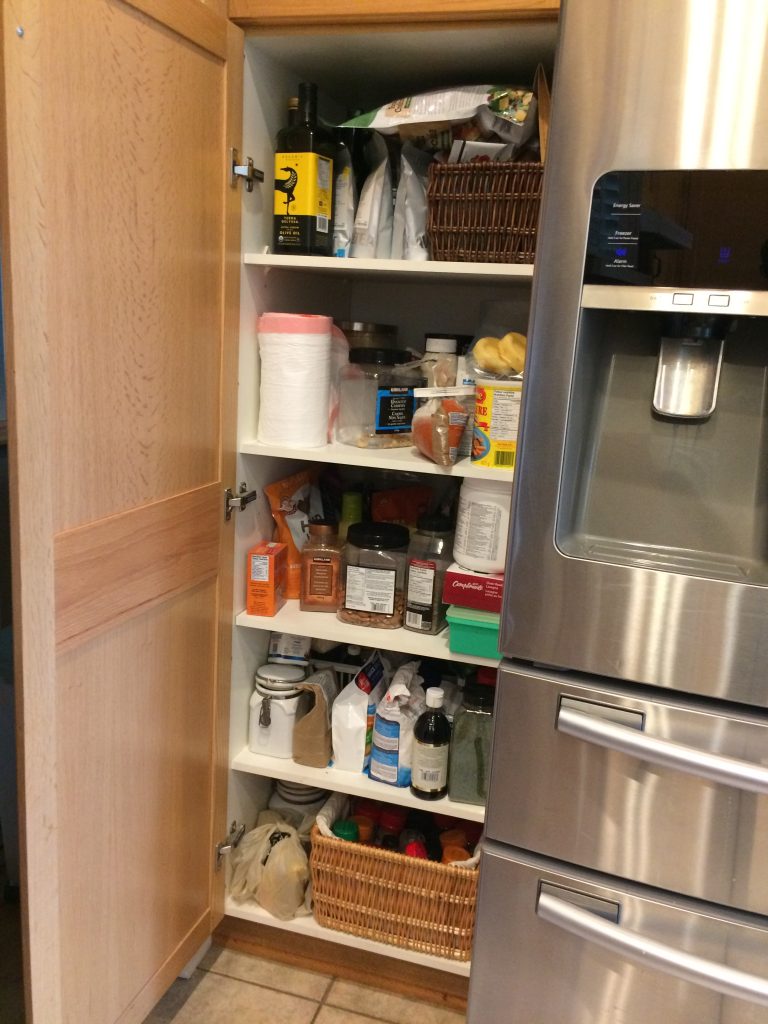 5. NO cabinet organization accessories…everything just jumbled together…
6. Corner cabinet that is inaccessible (rendering them completely useless – unless you're an elf)….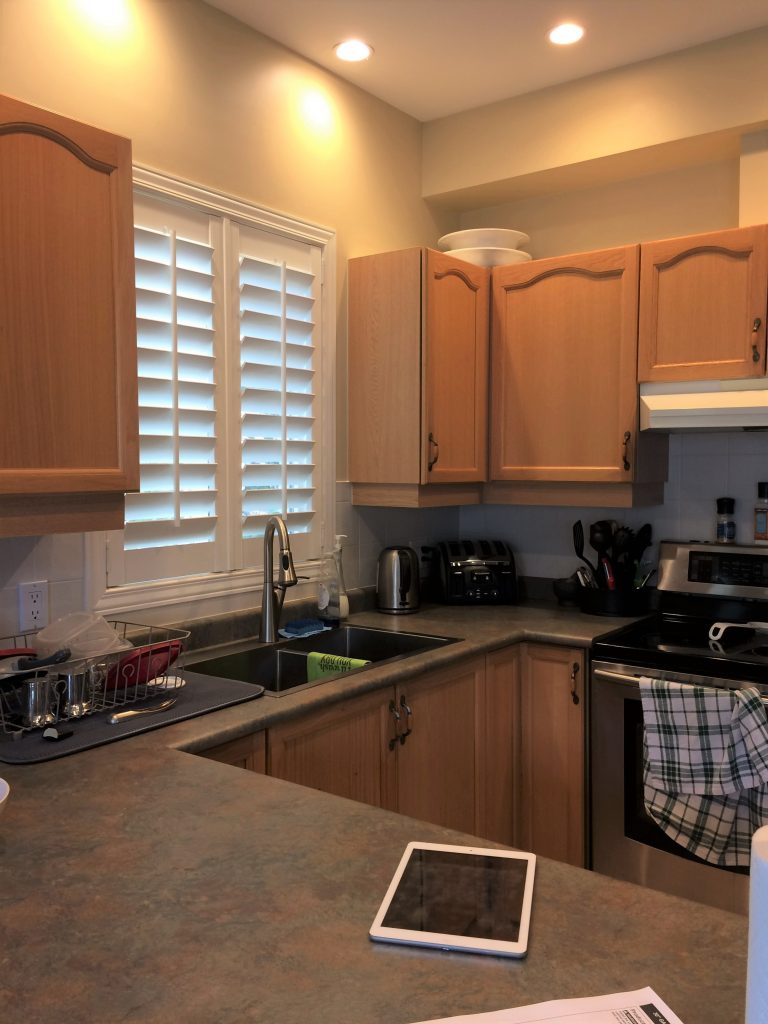 7. Trash and recycling access that collide with other appliances or cabinet doors thereby reducing functionality and damaging doors…
8. The shutters at the kitchen window can't open because of the 'upgraded' faucet…which means they can't open the window either…oops!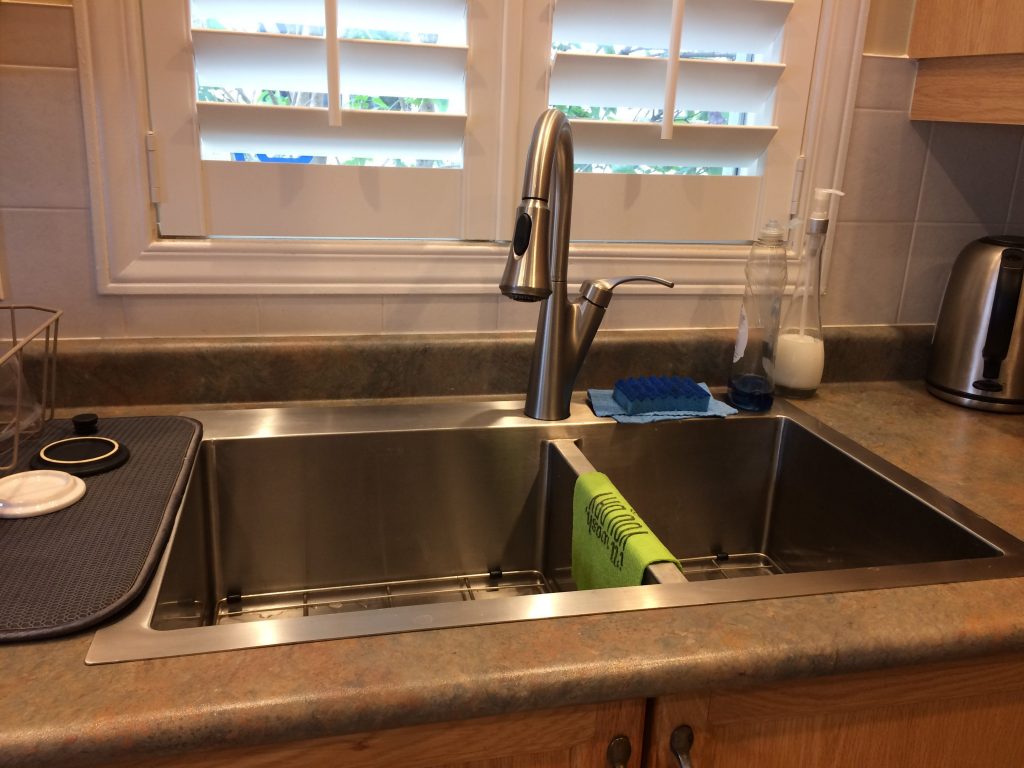 TIP: Check window clearances, check the amount of space you have behind faucet (if you're installing directly into countertop) before buying and installing a new faucet.
9. Wasted space above cabinets….helllllooo!?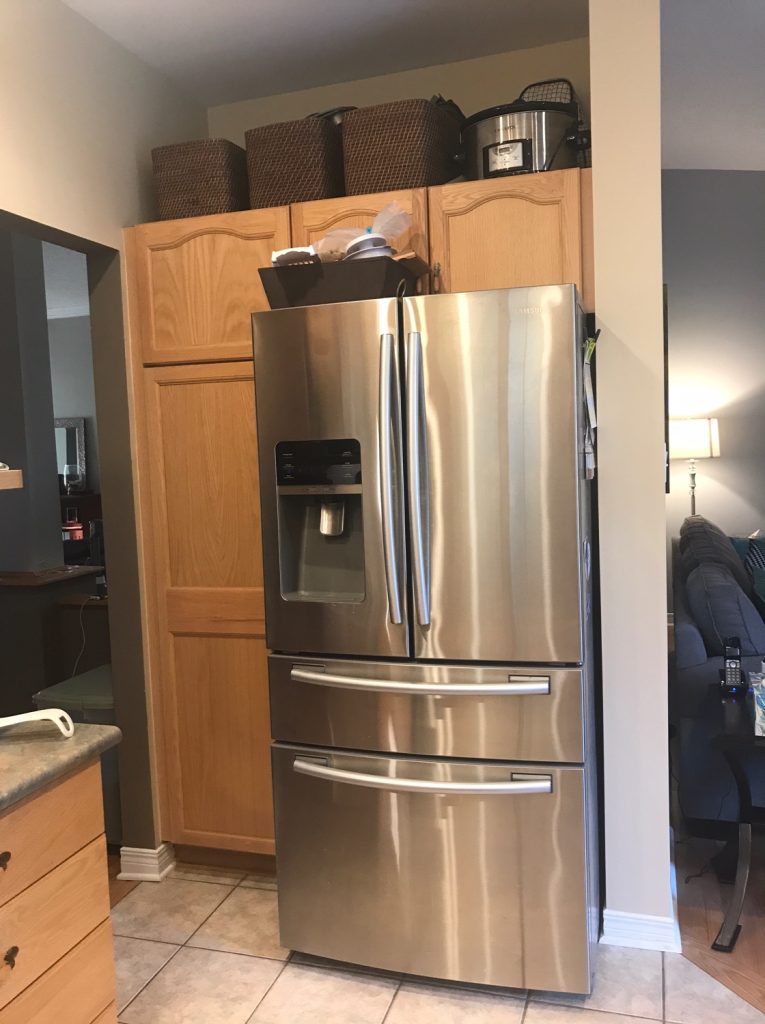 After several years of frustration with their kitchen layout, they were pretty open, willing and ready to consider all available options in order to get the space right and a kitchen they could both enjoy working in together.
Once I got to know them a bit and what their pain points were, going over the list of 'likes and don't like', I got to work on the floor plan.
DESIGNER DISCLOSURE: One of my pet peeves in kitchens, or any other space for that matter, are corner cabinets that are just flung willy-nilly into a plan without any consideration as to the placement and access of surrounding cabinets or appliances. Have another look at the before photo of the corner cabinet.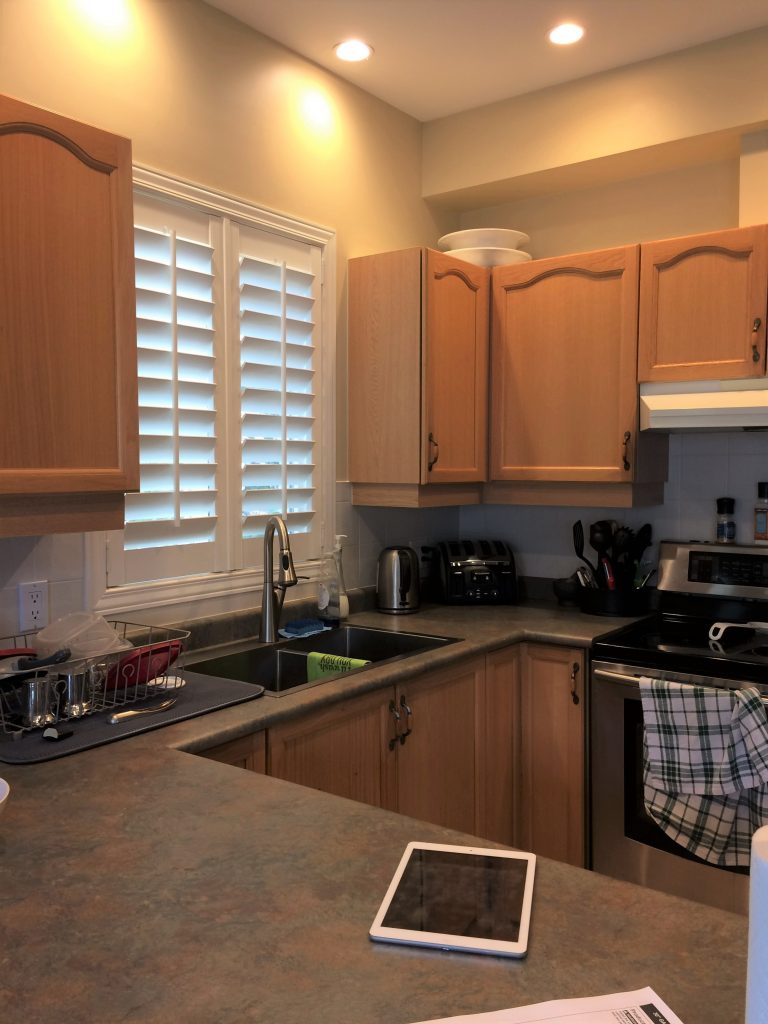 Can you imagine even trying to get into that thing?!!. I have a relatively small build and the best I could do is to contort my left arm into blindly reaching into this cave to reach something…anything, while doing my best imitation of 'Crouching Tiger'. (I know a lot of you have these in your kitchen and can relate….*sigh*) The client essentially used this cabinet to just shove 'stuff' that they didn't use all that often into it and then literally forgot about it because it was such a hassle trying to get in and out. Now don't get me wrong some corner cabinets are actually functional – when they are large enough to actually access – just not this one.
Of all the changes and improvements to this kitchen, one of the best design changes was addressing the two windows on the east wall. Both windows looked onto the neighbour's house, the breakfast area window looked onto a wall of siding (how inspiring) and the window over the sink looked directly into the neighbour's kitchen. The client told me they could actually have a conversation together while doing dishes. Great during a party but not so much first thing in the morning – hence the heavy shutters on the window.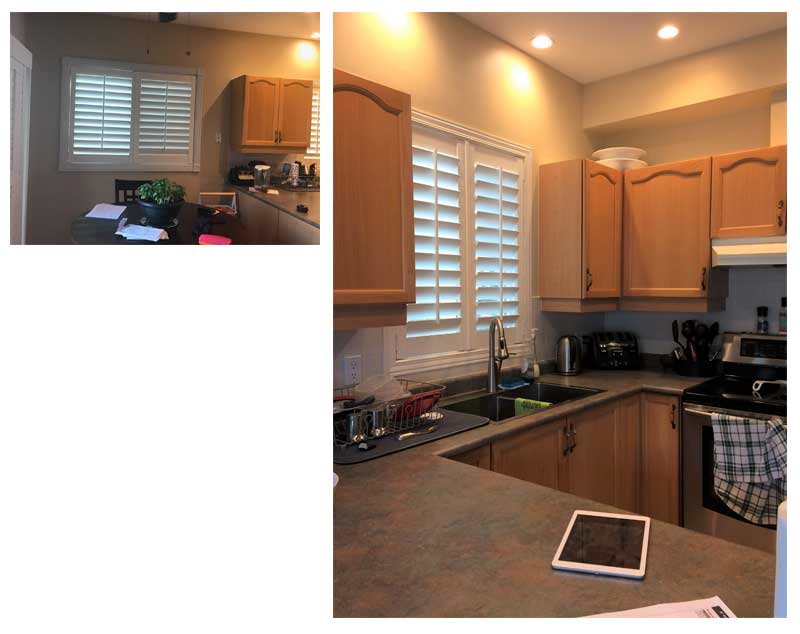 The window in the former breakfast area was taken out in favour of more counter space and much-needed storage.
I also moved the sink window over to the left 18" to allow for better cabinet access in the corner.
Seeing all of the extra counter space, functional access to a once lost 'cave' and a SECOND pantry – yep a SECOND PANTRY!! – got the client's excited.
I know you're in heaven reading this right? A…SECOND…PANTRY…!!!
Remember all the bulk food storage they needed – BAM! there it is – the SECOND PANTRY….and who wouldn't want that!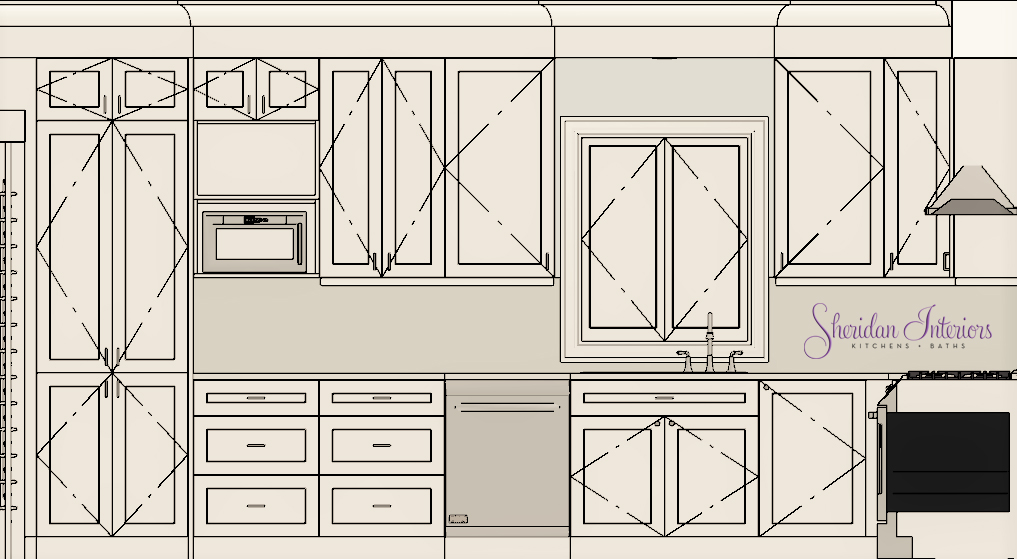 While we did not expand the existing footprint of the house I was able to maximize every inch of what we did have to work with by adding extra functionality with interior cabinet accessories such as rollout shelves, a 'magic corner' unit, adding more drawer cabinets, fully accessible lower and upper cabinets…and yah they got an island out of it too!
Now I'd say that's a lot of Bang for your Buck!
To enhance this little beauty I changed up the lighting, re-organized the pot lights and added new under cabinet lighting. All fixtures are energy efficient LED bulbs. So now this kitchen has task lighting (where you need it at the countertop) general lighting (pot lights), decorative AND functional, accent lighting with the pendants over the island.
..and lastly, we changed the dated tile floor to new hardwood floor and matched it to the existing wood flooring in the family room.
A new design, new materials and complimentary colours truly bring this kitchen and family room together making this part of the house a relaxing and inviting space to welcome friends and family.
HERE'S A QUICK RECAP OF WHAT WAS DONE
WHAT THEY LOST
1. One window (I know you must think I'm a heretic…lol!)
2. Daily frustration of stepping over each other to make a meal
3. Not having a kitchen that works for their lifestyle
4. Dated kitchen
WHAT THEY GAINED:
1. Better kitchen layout for two cooks
2. A new, functional, window over the sink
3. Privacy from neighbour by moving the window over
4. A base corner cabinet that they can actually access by moving the window over. A fully accessible cabinet with the right accessory
5. A pullout pantry for cooking oils near the range
6. Roll out shelves in the deep pantry by the refrigerator.
7. Additional drawer cabinets in the kitchen and island.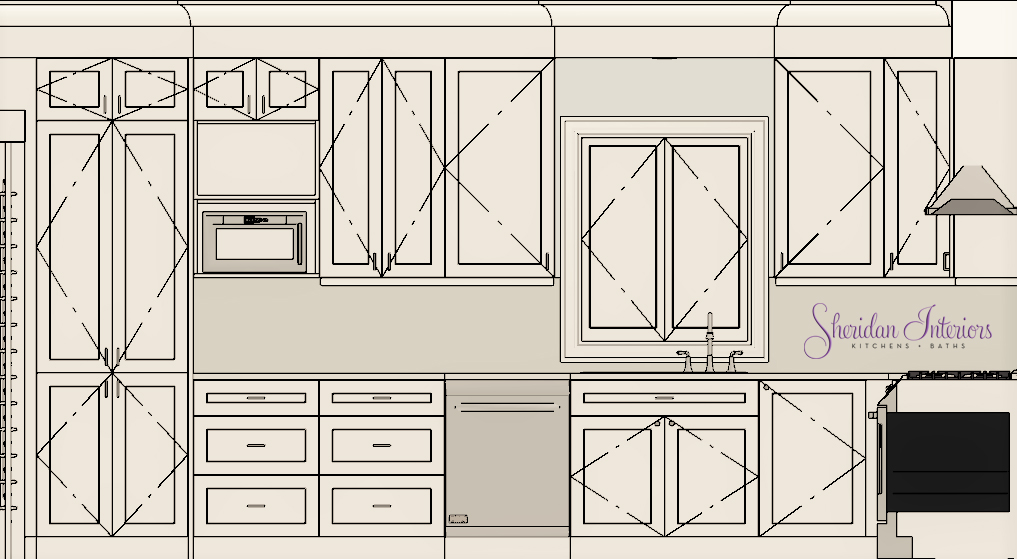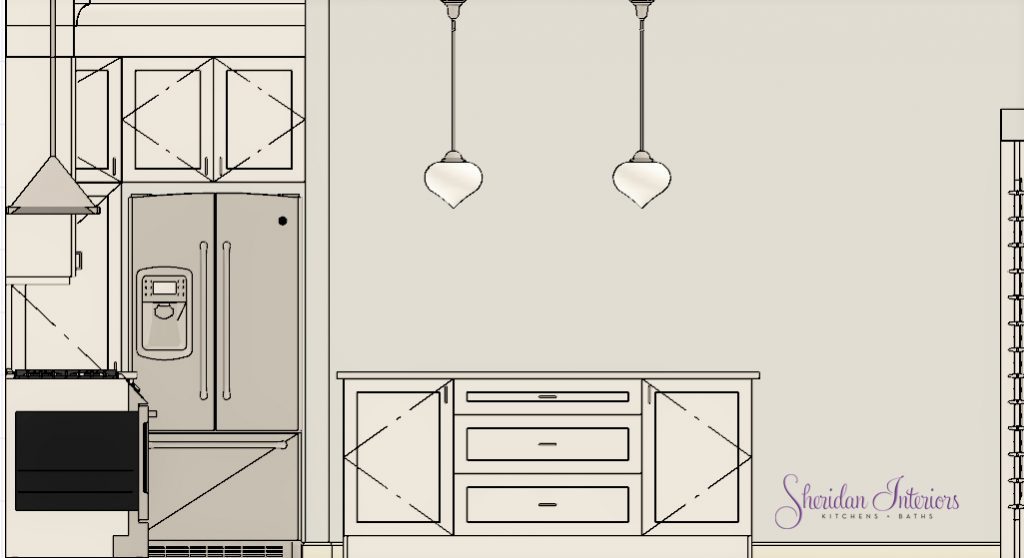 8. An island with seating for quick bites!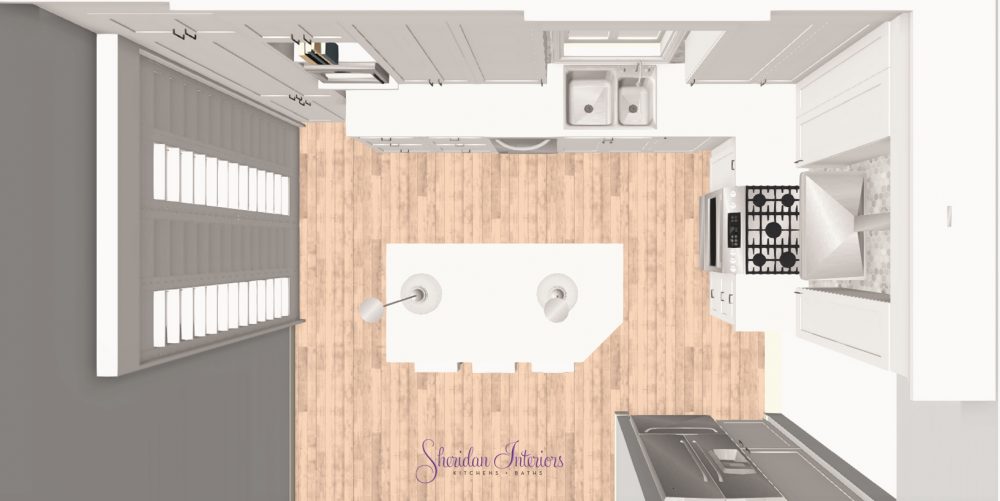 9. Lots of storage!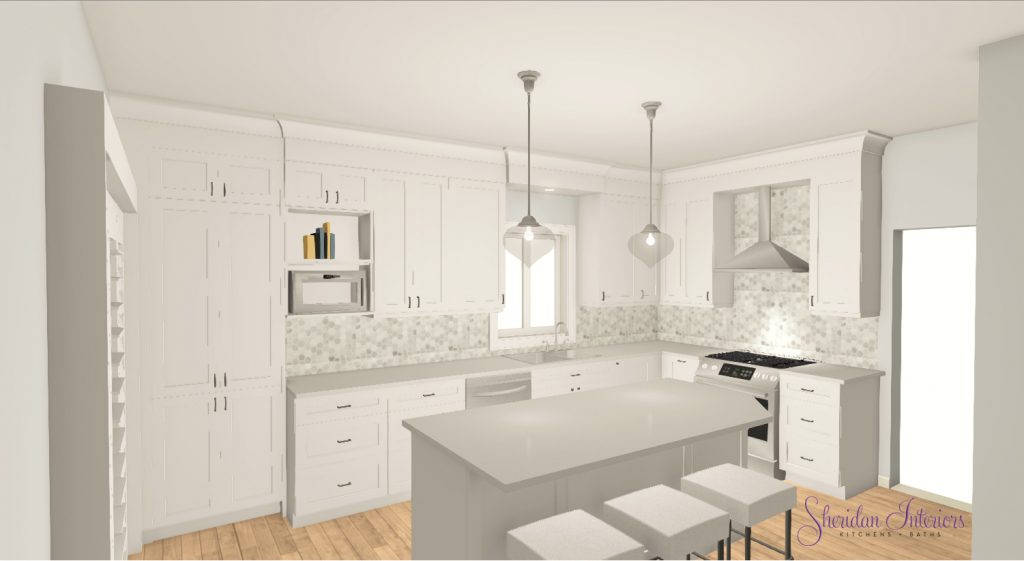 10. ….and a kitchen they love!
"We love the design and love our new kitchen".
Andrea & Mitchell M. – Ottawa
Now I'd say that's a WIN-WIN!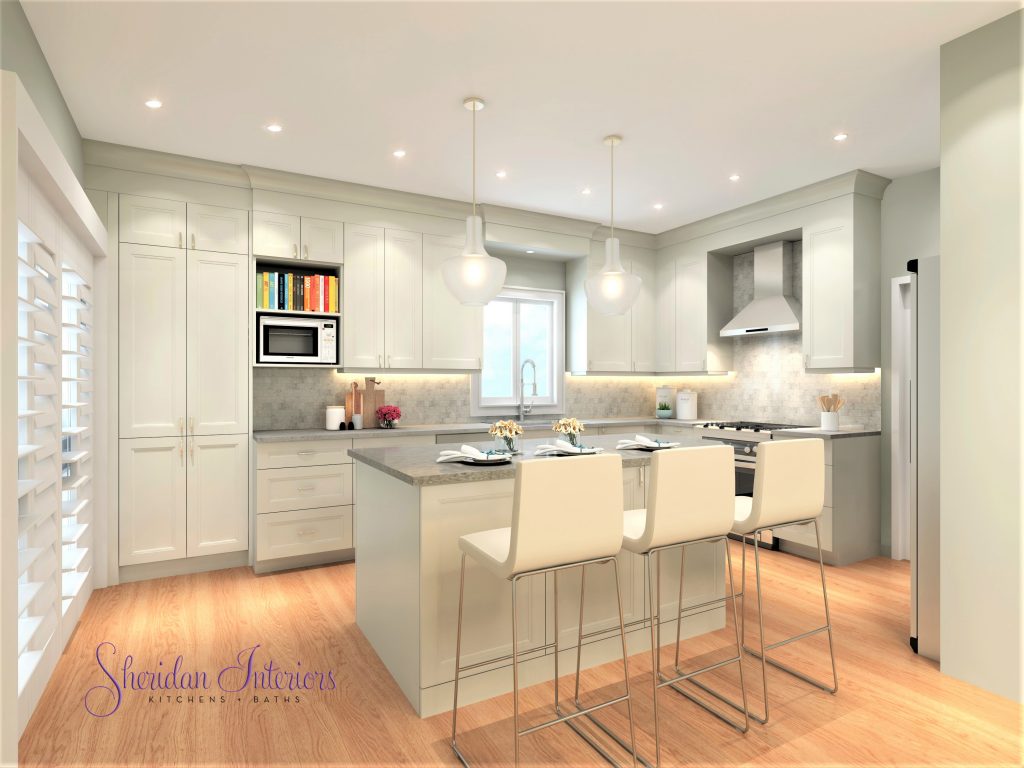 Thanks for stopping by!
---
To see a list of all of the services we offer click here or join us on Facebook to see what we do behind the scenes, new product introductions and more inspiring photos.
If you are dealing with small kitchen issues and you would like to renovate your small kitchen, or if you would like more information on how we can help you with your renovation book a FREE 15-minute Discovery Call to see how we can help you.
Select date and time:
Serving Cornwall, Ottawa, Massena, Malone and surrounding areas.

613-936-7237
info@sheridaninteriors.ca

---