Anne-Marie Brunet, CKBD, CAPS
---
Make your kitchen more accessible without blowing your budget or doing a full gut remodel.
Even if you don't have the luxury of gutting and remodeling your kitchen, you can still up its efficiency and accessibility quotient. Retrofitting some or all of your cabinets with these accessories will help those in your home get access to what they need and will help your kitchen stay organized as a bonus. Some of these solutions are easy enough for DIY, and some require a bit more experience to put in, so if you're not that handy then we can definitely get you fitted out.
BASE CABINET ACCESSORIES
Rollout shelves are a great option for base cabinets. They come in a wide variety of sizes and styles and materials. A base cabinet with a standard door can usually accommodate three shelves, depending on what you need to store. If you have larger items to be stored, you can usually fit only two rollouts.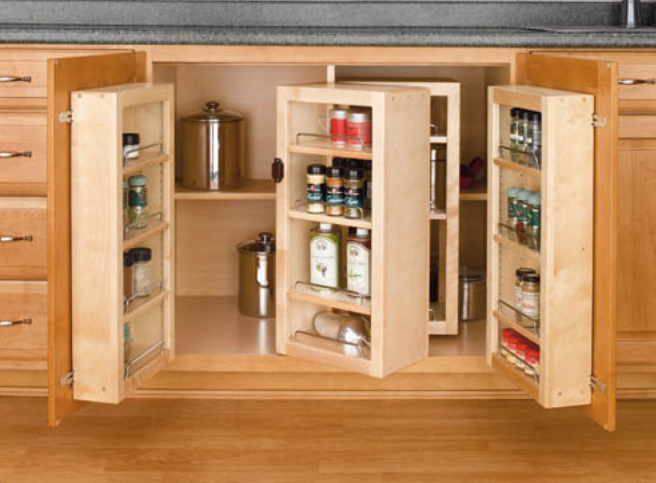 This pantry system offers ultimate access and organization for base cabinets. They come as a double pantry system, like this one, or as a single pantry system for a single door base cabinet. Here it is in action.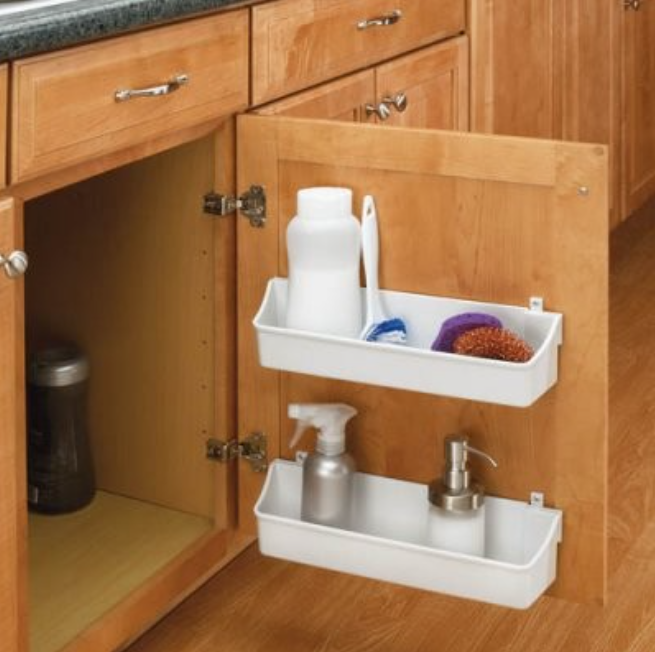 Something as simple as door storage trays can alleviate bending and reaching.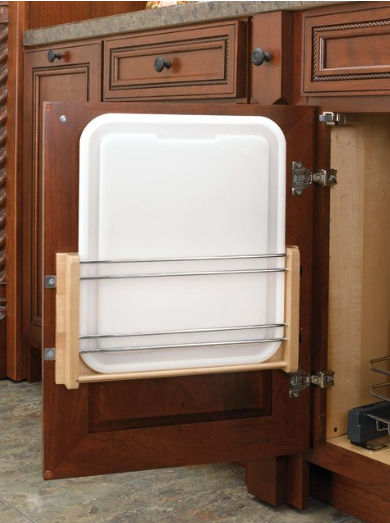 This classic door-mounted rack system can hold items other than just a cutting board. Cookie sheets and dish-drain trays come to mind.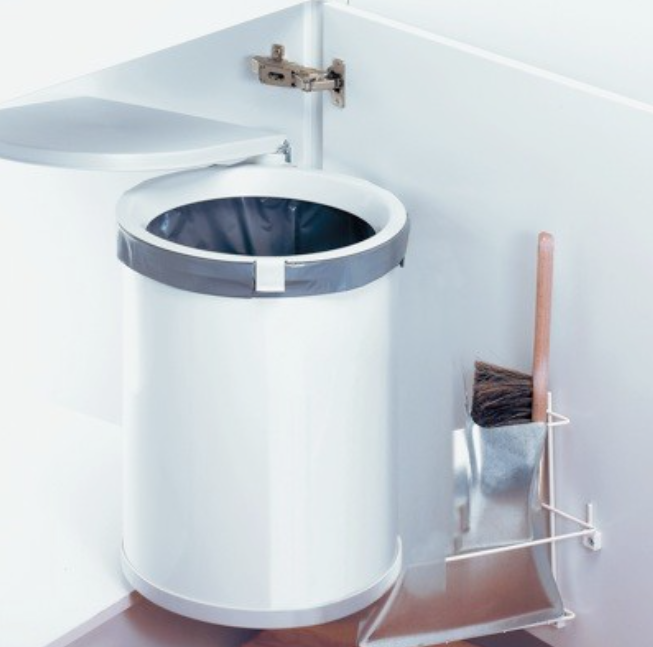 A simple door garbage bin that swings out toward you when you open the door helps contain messes, and alleviates bending and reaching.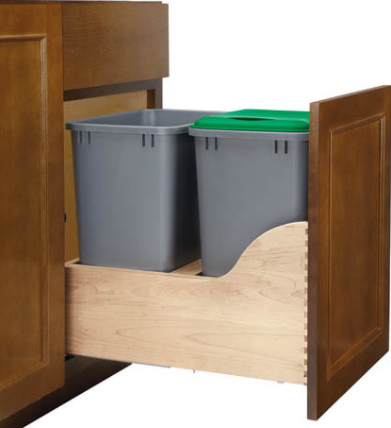 These two waste containers, designed for base cabinets, are great for smaller households. One container can hold waste, and the other can hold recycling. The unit can also be combined with an automatic opening system for extra efficiency. This is a terrific system for those with dexterity or mobility issues.
UPPER CABINET ACCESSORIES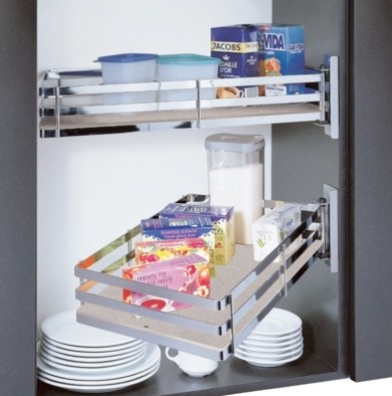 When you can't reach that 2nd shelf in the cabinet, make it come to you!.
This swiveling system works well in upper cabinets. It offers accessibility, flexibility and organization by putting items within reach.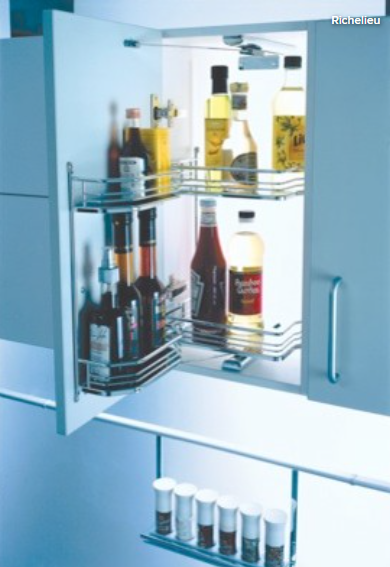 This pullout version also works well for upper cabinets, and there is a similar model for those pesky corner cabinets where everything gets lost and forgotten in the dark corner.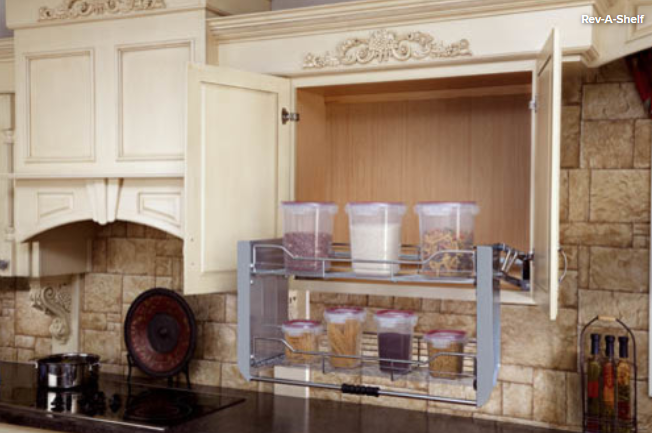 A two-tier pull-down system like this allows you to access those sometimes hard-to-reach upper cabinets. This version from Rev-A-Shelf features a gas-assisted mechanism that makes lowering and lifting the system easy. It's a great idea for shorter individuals (guilty!) and for those in wheelchairs.
When doors on cabinets become cumbersome, consider removing them for ultimate access. Organization is the key to making this look work so that it does not look cluttered. But since you're saving money by not doing a total #kitchenremodel, you can splurge on pretty dishware. An arrangement like this is pretty, functional and totally on trend.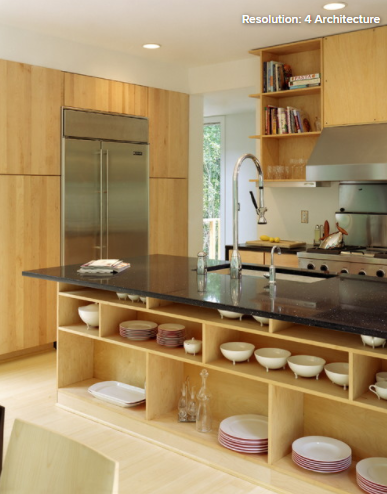 Here, an island becomes the dishware storage station. This is probably not for everyone but is a nice idea to include everyone in setting the table…. not so great if you have a Fido or a Kitty!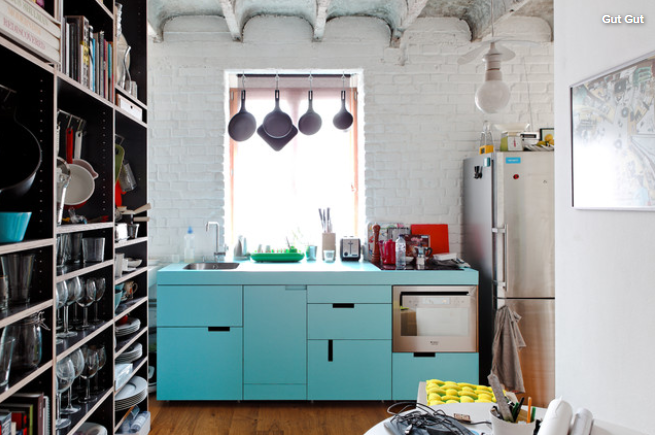 If you're really tight on space, cabinet doors are even more problematic. This kitchen incorporates one whole wall of open shelving for everyday items. Shelving does not have to be much deeper than 12 or 13 inches to accommodate everyday items. Without any doors on the cabinetry, the space feels bigger and would better accommodate a person with a walker or in a wheelchair.
For more design ideas check out our other articles on Universal Design for Kitchen & Bathrooms. Click on here for more articles.
You can also see a list of all of the services we offer here, or join us on Facebook or Instagram to see what we do behind the scenes, discover new product introductions and more inspiring photos.
---